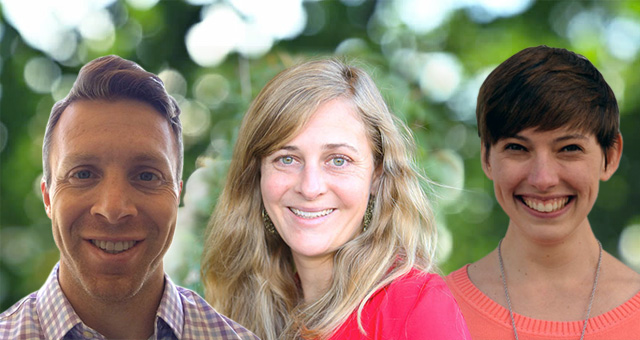 RP Foundation Takes on Three New Board Members
The Rustic Pathways Foundation is excited to announce the election of three new members to the RPF Board of Directors. We are working hard to expand our impact and collaborate with experienced individuals passionate about supporting locally-driven, sustainable development in global communities. Each new board member brings a unique skill set that will help the Foundation to maximize its positive impact globally.
Please join the Rustic Pathways community in welcoming Laura Budzyna, Robb Gibson, and Hillary Proctor.
Laura Budzyna is the Monitoring, Evaluation and Learning Manager at the International Development Innovation Network (IDIN), headquartered at MIT D-Lab. She oversees IDIN's efforts to measure successes, learn from stumbles, and use data to constantly improve its work. Previously, she consulted on financial inclusion programs around the world with EA Consultants and piloted a hands-on program design and evaluation course at Columbia University's School for International and Public Affairs (SIPA). She also taught literacy in the Dominican Republic with the DREAM Project.
"Everywhere I've traveled, from rural villages to teeming megacities, I've met brilliant, creative, and passionate people. The only difference among them is access to opportunities: some have the resources to bring their ideas to life, and others do not," Laura says. "If we can reshape the world so that everyone has the opportunity to make good on their ideas, we all stand to benefit." Her volunteer and work experience have allowed her to explore the role of cross-cultural exchange in expanding opportunities and she looks forward to "making new discoveries with the Rustic Pathways Foundation." She graduated from SIPA with an MPA in Development Practice and she holds a BA in Latin American Studies from Middlebury College.
Hillary Proctor is Director of Technical Services at Making Cents International, where she oversees their work in youth capacity building, agriculture development, and rural livelihoods activities. She is an experienced agriculture, youth enterprise, and livelihoods specialist with over twelve years of international experience providing assessment, project design, and capacity building services for USAID, foundations, and other bilateral donors.
A former gap year student and Rustic Pathways trip leader, Hillary says, "Fifteen years ago, my gap year experience changed my outlook on the world and helped me find my passion for development work. I have felt the impact of this experience every day since. I am excited to join the RP Foundation Board and invest in this same opportunity for others while continually supporting our global community." She earned her Master's Degree in Sustainable International Development from the Heller School for Social Policy and Management at Brandeis University and her B.A.Sc. from the University of Idaho.
Robb Gibson is a Product manager at Cisco Systems, a worldwide leader in information technology, where he is responsible for developing business strategies and product innovations. Previously, he worked in strategy consulting at Simon-Kucher & Partners and helped open their Sydney, Australia office.
Robb's own experiences as a Rustic Pathways student and, later, trip leader, solidified his passion for adventure travel and international service projects. "I saw parts of the world I never would have otherwise seen and met some of the most amazing people from all over," he says. "The experiences inspired me to keep exploring, to learn from everyone I meet, and to empower local communities to achieve their goals." He earned his B.S. in Product Design and B.A. in Interdisciplinary Studies in the Humanities from Stanford and his M.B.A. from the Kellogg School of Management.